UPDATED MARCH 2023: If you want to be a screenwriter, you need to read a lot of screenplays. And if you are going to read film scripts might as well read some of this year's best. Below is an active running list of 2022-2023 Oscar Contending Screenplays. I'll add new screenplays as they become available, so check back often.
PLEASE NOTE: These screenplays are FREE and LEGAL to download for educational purposes. The studios will only keep them online throughout the awards season, so the clock is ticking. Enjoy. 
When you are done reading, take a listen to Apple's #1 Screenwriting Podcast, The Bulletproof Screenwriting Podcast, with guests like Oscar Winner Eric Roth, James V. Hart, David Chase, John August, Oliver Stone, and more.
---
2021 Oscar-Winning Screenplays
The Father – (Sony Classics) – OSCAR WINNER (Best Original Screenplay)
Promising Young Woman – (Focus Features) – OSCAR WINNER (Best Adapted Screenplay)
2020-2021 Oscar Contending Screenplays
2020 Oscar-Winning Screenplays
Parasite – (NEON) – OSCAR WINNER (Best Original Screenplay)
Jo Jo Rabbit – (Fox Searchlight) – OSCAR WINNER (Best Adapted Screenplay)
2020 Oscar Contending Screenplays
2019 Oscar Contending Screenplays
2018 Oscar Contending Screenplays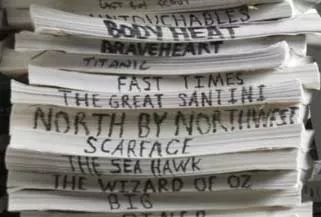 Want to read more screenplays by the best screenwriters working in Hollywod today?
Screenwriter's Screenplay Collections
We started a new weekly series where we highlight a screenwriter and post a collection of most if not all of their work in one online resource. Sign up for our weekly newsletter above to get weekly updates sent to your inbox. Here are a few recent screenwriter collections:
I also decided to include a bonus area where you can download some of the best screenplays of the last few years. Over 175 screenplays in all. Happy reading!
Best of 2016 Screenplays
Best of 2015 Screenplays
Best of 2014 Screenplays
Best of 2013 Screenplays
---
BONUS: Oscar Nominated and Winning Screenplays