If you want to be a screenwriter you have to read screenplays. There's no better place to start than reading the masters of the craft. The Writers Guild of America (WGA) published this list of the top ten best screenplays ever written and I would have to agree.
My personal favorites on this list are Casablanca, Chinatown, and Annie Hall. Click on the links below and start reading. Happy Reading…then get to writing.
1. CASABLANCA
Screenplay by Julius J. & Philip G. Epstein and Howard Koch. Based on the play "Everybody Comes to Rick's" by Murray Burnett and Joan Alison
2. THE GODFATHER
Screenplay by Mario Puzo and Francis Ford Coppola.
3. CHINATOWN
Written by Robert Towne
4. CITIZEN KANE
Written by Herman Mankiewicz and Orson Welles
5. ALL ABOUT EVE
Screenplay by Joseph L. Mankiewicz
6. ANNIE HALL
Written by Woody Allen and Marshall Brickman
7. SUNSET BLVD.
Written by Charles Brackett & Billy Wilder and D.M. Marshman, Jr.
8. NETWORK
Written by Paddy Chayefsky
9. SOME LIKE IT HOT
Screenplay by Billy Wilder & I.A.L. Diamond.
10. THE GODFATHER II
Screenplay by Francis Ford Coppola and Mario Puzo.
BONUS: SHAWSHANK REDEMPTION
Screenplay by Frank Darabont. I had to add this remarkable screenplay to the list.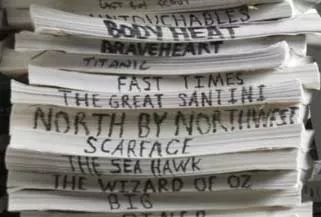 Want to read more screenplays by the best screenwriters working in Hollywod today?
The Bulletproof Screenwriting collection of screenplays are organized by screenwriter's & filmmaker's career for easy access.
SaveSave