Electronic Labyrinth: THX-1138 4EB is a 1967 social science-fiction short film written and directed by George Lucas while he attended the University of Southern California's film school. The short was reworked as the 1971 theatrical feature THX 1138.

Lucas had had an idea for a long time "based on the concept that we live in the future and that you could make a futuristic film using existing stuff". Fellow USC students Matthew Robbins and Walter Murch had a similar idea which Robbins developed into a short treatment, but Robbins and Murch lost interest in the idea, whereas Lucas was keen to persist.
One of Lucas' USC instructors suggested an opportunity for Lucas to make the short film that he had in mind: since the 1940s, the USC film school had had a working arrangement with the US Navy, whereby Navy filmmakers attended USC for additional study. Teaching the class was not popular amongst USC staff, as the Navy filmmakers often had rigid, preconceived ideas about filmmaking, and sometimes misbehaved in class. But the Navy paid for unlimited color film, and lab processing costs, for their students. Lucas offered to teach the class and was allowed the opportunity.
The Navy men formed the crew of the film, and some appeared in the cast. Because of the Navy connection, Lucas was able to access filming locations that would not otherwise have been available to him: the USC computer center, a parking lot at UCLA, the Los Angeles International Airport, and the Van Nuys Airport. Much of the filming was done at night, with some at weekends.
The film was completed in 12 weeks, with Lucas editing it on the Moviola at the home of Verna Fields, where he was working during the day editing United States Information Agency films under Fields' supervision – Wikipedia
Enjoy!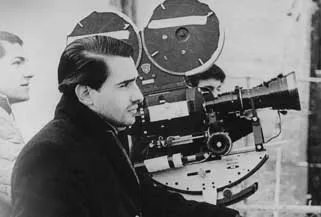 Want to watch more short films by legendary filmmakers?
Our collection has short films by Martin Scorsese, Quentin Tarantino, the Coen Brothers, Chris Nolan, Tim Burton, Steven Spielberg & more.