Even the legendary filmmaker George Lucas had to start somewhere. Filmmaker: A Diary by George Lucas. This 30 min documentary is an intimate portrait of another legend in the film industry Francis Ford Coppola. Lucas filmed and recorded sound for the documentary himself, using an otherwise unutilized 16mm production camera and a Nagra tape recorder from the production.
"Filmmaker remains one of the best documentaries about the production of a movie, as fresh and insightful today as it was in 1968… The thirty-minute film has the fluidity and detail of a written journal coupled with a cinematic sense of movement as the Rain People company goes from location to location" – Dale Pollock, author of Skywalking: The Life and Films of George Lucas
Synopsis:
This remarkable documentary offers a behind the scenes view of how filmmaker George Lucas viewed the filmmaking process when he was an intern working with Francis Ford Coppola on the feature film The Rain People.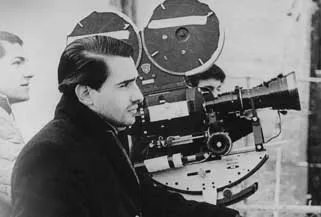 Want to watch more short films by legendary filmmakers?
Our collection has short films by Martin Scorsese, Quentin Tarantino, the Coen Brothers, Chris Nolan, Tim Burton, Steven Spielberg & more.