This is the extremely rare 1978 short film Clockwork by horror master Sam Raimi. The film star  Scott Spiegel and Cheryl Guttridge. Raimi was no more than 19 years old when he embarked on making  this Super 8mm thriller. The film is about A very wealthy, but lonely woman is stalked in her home by a violent serial killer.
According to reviewer Rafael Jovine:
In keeping with the somewhat over the top crime and slasher of his first projects, this six minute short is about a woman who is stalked by a serial killer. Unlike some of his old shorts, the cinematography is good enough for you to enjoy it, and there are plenty of good and interesting ideas when like our lead lady, scared, lie her back against a wall only to have the killer blast his arm out of it and try to stab her.

It's a quick but the most memorable moment in the short to me. All in all, there's not much to say about this short but it is a fun slasher film from Raimi fans of the director would enjoy.
Enjoy the early work of this horror master!
The film is available on The Internet Archive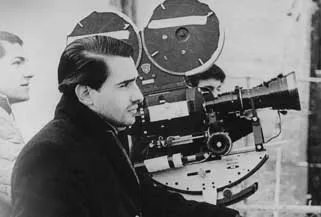 Want to watch more short films by legendary filmmakers?
Our collection has short films by Martin Scorsese, Quentin Tarantino, the Coen Brothers, Chris Nolan, Tim Burton, Steven Spielberg & more.