Amblin' is a short film made in 1968. It is the first completed film shot by Steven Spielberg on 35mm. The film is a short love story set during the hippie era of the late 1960s about a young man and woman who meet in the desert, attempt to hitchhike, become friends, then lovers, make their way to a beach, and part ways. It later became the namesake for Spielberg's production company, Amblin Entertainment.
A young man carrying a closely guarded guitar case meets a free-spirited young woman while hitchhiking across the Mojave Desert, she befriends him, then he hauls both of their luggage, they play an olive pit spitting game, she shares a cannabis joint, he becomes her lover, and they accept various rides, en route to a Pacific coast beach. At the beach, the man runs, fully clothed, into the surf, and splashes about, while the woman with daisies in her hair, hesitatingly opens his guitar case and lays out its contents: a tie, wingtip shoes, Thrifty Drugs mouthwash, a paperback of Arthur C. Clarke's The City and the Stars, a white shirt, Right Guard spray deodorant, a suit, a roll of toilet paper, white crew socks, Phillips' Milk of Magnesia, and toothpaste. The woman smiles in bemusement, perhaps sensing that her companion was not the free-spirit that she assumed that he was. She frowns in sad disappointment and climbs back up the beach stairs without him. – Wikipedia
There is no spoken dialogue in the film aside from the lyrics to the opening and closing theme song. There is an ambient soundtrack featuring bird sounds, wind, passing car noises, popping noises made by the characters, fire sounds, and laughter, along with instrumental music.
Download Steven Spielberg's Screenplay Collection in PDF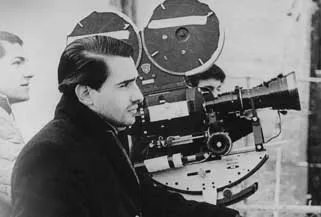 Want to watch more short films by legendary filmmakers?
Our collection has short films by Martin Scorsese, Quentin Tarantino, the Coen Brothers, Chris Nolan, Tim Burton, Steven Spielberg & more.