Joss Whedon is responsible for some of the greatest sci-fi universes of all time. He not only wrote and created Buffy the Vampire Slayer, which was turned into a feature film and a wildly successful television series but he also created fan favorite Firefly.
With such sci-fi street cred, he was invited by Marvel to bring The Avengersto the big screen. The film went on to be the third biggest movie in Hollywood history. Joss Whedon also added his sensibility to the Oscar® Winning Toy Story.  There is a lot to learn from reading his screenplays. Before you dive into Joss Whedon Screenplays, take a watch to Joss discussing his career below. Enjoy!,
When you are done reading take a listen to Apple #1 Screenwriting Podcast The Bulletproof Screenwriting Podcast, with guest like Oscar Winner Eric Roth, James V. Hart, David Chase, John August, Oliver Stone and more.
(NOTE: For educational and research purposes only).
---
BUFFY THE VAMPIRE SLAYER  (1992)
Screenplay by Joss Whedon – Read the screenplay!
TOY STORY (1995)
Screenplay by Joss Whedon, Andrew Stanton, Joel Cohen, and Alec Sokolow – Read the screenplay!
ALIEN: RESURRECTION (1997)
Screenplay by Joss Whedon – Read the screenplay!
FIREFLY – TV PILOT (2002)
SERENITY (2005)
WONDER WOMAN – UNPRODUCED (2006)
DOLLHOUSE – TV PILOT (2009)
THE CABIN IN THE WOODS (2012)
THE AVENGERS (2012)
AVENGERS: AGE OF ULTRON (2015)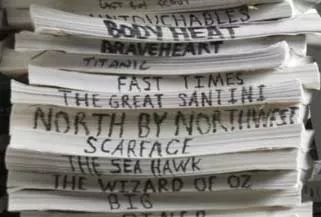 Want to read more screenplays by the best screenwriters working in Hollywod today?
The Bulletproof Screenwriting collection of screenplays are organized by screenwriter's & filmmaker's career for easy access.