After Aronofsky's graduation from Harvard in 1991, he moved to Los Angeles to obtain his MFA in directing from the prestigious American Film Institute.  The two-year program resulted in the creation of two short films, the first of which is 1991's FORTUNE COOKIE— an absurdist comedy inspired by the Hubert Selby Jr story of the same name.  Thankfully, an old VHS dub of the film has been made available in its entirety online, giving us our earliest glimpse at Aronofsky's artistic development.
Written by Aronofsky and produced by Jody Teora, FORTUNE COOKIE concerns a middle-aged salesman who comes to believe his recent string of successes are the result of the good luck contained with an old fortune cookie he keeps in his pocket.  The short follows his highs and lows, forcing him to contend with the pushy aggressions of a rival salesman intent on figuring out his secrets, and a strange pervert who follows him around and makes unwanted romantic overtures from the cabin of his gigantic Cadillac.
Aronofsky's broadly humorous approach strikes a curious tone, exemplified by literal fart jokes and purposely weird performances that would be almost Lynchian if they weren't so over the top.  To his credit, Aronofsky casts the film entirely with middle-aged actors or older– a notable aspect in the world of student filmmaking, where the casts are typically comprised of the director's friends or fellow students.
A distinct, albeit half-hearted, midcentury aesthetic defines the production design, with the characters dressed in baggy suits from the 1950s and affecting a rapid-fire Transatlantic vernacular to match.  Aronofsky even sprinkles a vintage car or two in the background, but beyond that, he makes no effort to hide the trappings of contemporary life.
Nevertheless, a degree of deliberate design choice evidences itself in the locations, which juxtapose sleepy, pastel-colored suburban environs with crumbling, graffiti-riddled industrial areas (perhaps as a comment on the breakdown of the American Dream myth, or something similarly heavy-handed in an appropriately film-school way).
Working with the credited director of photography Usa Stoll, Aronofsky captures FORTUNE COOKIE in the square frame of analog video, which no doubt was less of an artistic choice than it was a mandate from his first-year directing professor at AFI.  His approach to coverage mostly eschews conventional over-the-shoulder compositions and reverse shots, in favor of having his actors continually break the 4th wall by addressing the camera directly.
A recurring visual motif finds Aronofsky framing his protagonist in a wide, flat composition and moving from one side of the frame to the other.  He repeats the action with the same framing in the subsequent shot, albeit a few yards down the street.  Most filmmakers would cover this same action as a continued dolly shot, but Aronofsky chops it up and fragments the line of movement as another way to convey that his protagonist is moving in circles without actually going anywhere.
The effect is like watching an old-school side-scrolling video game that doesn't actually scroll when the hero reaches the edge of the screen.  A soundtrack comprised primarily of street performance-style percussion only vaguely foreshadows the urban character of Aronofsky's future work, but a series of activity-based insert shots (presented in extreme closeup up and edited together in rapid-fire succession to a soundtrack of exaggerated audio effects) immediately call to mind the signature stylistic technique he'd perfect in PI and its follow-up, REQUIEM FOR A DREAM (2000).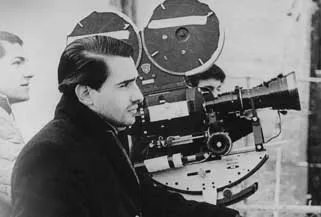 Want to watch more short films by legendary filmmakers?
Our collection has short films by Martin Scorsese, Quentin Tarantino, the Coen Brothers, Chris Nolan, Tim Burton, Steven Spielberg & more.