What is that elevates a filmmaker to a film master like Stanley Kubrick, or that elegant French word, auteur? In the vast majority of films that make it onto the big screen these days, it is the actors' names which draw curious audiences above the director's.
In many cases, at least in a film's public profile, the director works behind the scenes, barely participating in the promotion circuit, and in the most disheartening cases, can even earn the label of a "Hollywood Hack".
There may be hundreds of such ill-fated directors circulating, however, the last 120 years of filmmaking have given us a precious selection of truly masterful auteurs. From Alfred Hitchcock to Jean Renoir, from Claire Denis to Quentin Tarantino, the film masters' canon is a rich one.
Such filmmakers leave an indelible mark on their films; they exert unmistakable control over their project; they allow their creative idiosyncrasies to seep into every aspect of their process. In other words, cinematic masters have the freedom to make their films truly their own, and the vision to create something unique in doing so.
Inarguably one of the most creative, idiosyncratic, visionary directors of our time, Stanley Kubrick falls easily into this categorisation of auteur. His films, which frequently mix incisive political messages with disturbing character relationships and iconic horror imagery, are simultaneously artful and raw.
In perhaps his best-known film, The Shining, his uncanny, labyrinthine and geometric framing of the film's hotel setting transform inanimate objects like tricycles and corridors into pseudo-characters in themselves, capable of conveying horror and unease even without explicit violence.
In his Vietnam War indictment Full Metal Jacket, Kubrick blurs the line between military brutality and full-blown abuse, masculinity and femininity, violence and sexuality, in ways no other filmmaker could. Indeed, his characteristic blending of beauty and ugliness, politics and psychology, composure and unease, have marked Kubrick's cinema even since his earliest projects, such as
Below is by far one of the best video essays on Stanley Kubrick's work. THE DIRECTORS SERIES is an educational non-profit collection of video and text essays by filmmaker Cameron Beyl exploring the works of contemporary and classic film directors. You can donate to support the project at:
Patreon: patreon.com/directorsseries. Before you watch the videos check out these legendary letters from the man himself Stanley Kubrick.
You can also see his settler work breaking down on of Stanley Kubrick's most intense pupils, David Fincher. Enjoy!
Download the mp3 of the podcast here
---
Stanley Kubrick's First Indie Film "Fear and Desire"
We all start somewhere and the 1953 feature film Fear and Desire is where the legendary Stanley Kubrick got his. Fear and Desire is a 60 minute independent film, written, financed, shot and directed by a 25-year-old Stanley Kubrick, who had just quit his job full-time job as a photographer at LOOK Magazine.
The film's budget was estimated to be $10,000, a hell of a lot in the 1950s. The production was made up of 15 people:  Kubrick, five actors (Paul Mazursky, Frank Silvera, Kenneth Harp, Steve Coit, and Virginia Leith), five crew people (including Stanley's first wife, Toba Metz) and four Mexican laborers who lugged the heavy film equipment around San Gabriel Mountains, where the film was shot. Kubrick said in an interview with Paul Mazursky interview with Paul Mazursky
"There was no dolly track, just a baby carriage to move the camera."
Kubrick hated this film with a passion and unsuccessfully attempted to destroy every copy of the film in existence. Before a restored version of the film was played at the 1993 Telluride Film Festival Kubrick publicly said that is was:
"a bumbling amateur film exercise."
After watching it I understand why he didn't want anyone to see it. It's a bit amateur and the acting and story are not what you would expect from a Kubrick film but it's a fascinating look at his first attempt at filmmaking.
Includes a five-minute interview with the director about the film.
---
The Barry Lyndon Projectionist's Letter
Stanley Kubrick was legendary for making sure his films were projects perfectly in every theater around the US. Below you'll find an amazing letter that was sent out to all projectionists screening Barry Lyndon.
It was reproduced by screenwriter and film critic Jay Cocks, who explained:
"I knew Stanley pretty well for a while, but at the time of the Time Barry Lyndon cover I was in LA beginning preliminary work on Gangs of New York. So I had no hand in the Time cover, but still managed to let Stanley know how great I thought the movie was. He replied with his usual gracious, funny note and enclosed this letter, because he thought I'd be interested. Bet you will be too."
Thank you Mr. Cocks. Check out the  letter below:

A rep from Warner Brothers responded to the letter,
"We stand firmly that we are 100% in compliance with Mr. Kubrick's wishes and edict" and that "the letter from Kubrick to projectionists was the reference for our 1.78 aspect ratio call."
God I miss you Stanley.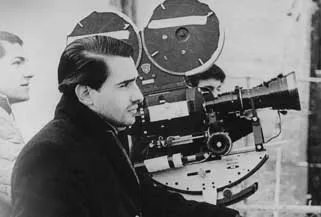 Want to watch more short films by legendary filmmakers?
Our collection has short films by Martin Scorsese, Quentin Tarantino, the Coen Brothers, Chris Nolan, Tim Burton, Steven Spielberg & more.
Stanley Kubrick Screenplays
Below is a collection of all of Stanley Kubrick's screenplays. (NOTE: For educational and research purposes only).
Stanley Kubrick's Boxes Documentary
Every once in a while a new handwritten memo or a rare behind-the-scenes featuring master filmmaker Stanley Kubrick finds its way onto the web; today I share with you the origin of many of these rare finds. Recently uploaded online,
Recently uploaded online, Jon Ronson's 2008 documentary Stanley Kubrick's Boxes examines where these discoveries came from and he unearths the Indiana Jones-style labyrinth of notes, memos, and memorabilia the legendary director left behind.
"The thing is, nobody outside the Kubrick house got to see the boxes."
Stanley Kubrick's trademark eccentricity is on full display as the documentary filmmaker, who was allowed to film by the invitation of Kubrick's widow, digs into his methodical system of storing and cataloging countless of letters from fans filed according to where they originated from. Discovered personal notes read,
"Please see there is a supply of melons kept in the house at all times."
This remarkable 48-minute documentary reminds us of the ridiculous amount of research, time and work that went into each of Stanley Kubrick's masterpieces; for example, 30,000 location photos were taken during the pre-production process for Eyes Wide Shut, how Stanley Kubrick tested a crazy number of hats before choosing the one that the character Alex would wear in A Clockwork Orange. 
The immense amount of details that help create Kubrick's masterworks should not be forgotten and people can regain a new appreciation of the master filmmaker and storyteller below:
Documentary on the vast array of boxes Stanley Kubrick accumulated and left behind. This is the full 61-minute version, unlike the 47-minute version. It includes a lot of behind the scenes footage from Full Metal Jacket not seen on the shorter version. The quality is lower but if you want to see a bit more footage give it a watch.
---
Kubrick's The Shining(1980) – Rare Behind The Scenes Footage

---
The Making of Stanley Kubrick's "Full Metal Jacket"
The Peter Sellers Story: Stanley Kubrick parts
Excerpts from the BBC Arena program, "The Peter Sellers Story", a documentary directed by Peter Lydon featuring Seller's home movies shot with his portable cameras. These excerpts covers the year when Sellers became famous in the US and the time he spent with Stanley Kubrick, making "Lolita" and "Dr Strangelove" in England.
Producer James B Harris recollects how Sellers was hired for playing the ambiguous character of Quilty and why the production was moved in England. Kubrick is portrayed with his wife Christiane while playing tennis and chatting in Seller's home garden.
Scenes from both "Lolita" and "Dr Strangelove" are included and quotes from Kubrick statements about Sellers are read by the narrator.
The documentary features interviews with several Sellers' friends and cooperators and a clip from 1964 TV program The Steve Allen Show where Sellers was interviewed about how he created the character and the voice of the mad Dr Strangelove by taking inspiration from photographer Arthur Fellig, aka Weegee: a tape with Weegee's voice studied by Sellers is included, where the photographer talks about his nickname and his work.
SaveSaveSaveSave