When you hear Stanley Kubrick, you think of images. One of the many reasons Kubrick was such a remarkable filmmaker was that he came to the film industry after years working as a professional photographer for publications like Look magazine. There he learned about composition, light and of course lenses.
Not many film directors worry about the latest camera tech–cinematographers usually take that job up–but Kubrick was no ordinary director. Even though he wasn't the first filmmaker to use the Steadicam, on The Shining, he was the first to have the rig modified so it could hover close to the ground in those legendary shots of Danny on the big wheel.
In the video below, Joe Dunton, owner of one of the biggest camera rental facilities in the United Kingdom and worked extremely closely with Stanley, takes us on a guided tour of Kubrick's lens collection. For those who went to the traveling Stanley Kubrick exhibit (see the videos below) two to three years ago, you might have seen this video playing in the exhibit.
Kubrick rarely rented film gear or lenses and preferred to own his own. Stanley lit mostly with natural light when he could–because of his photojournalism career. Sometimes the flicker of a candle is all the light he would have, which led to the use of the legendary Zeiss lens designed for NASA as a way shooting the deep darkness of space–Kubrick used it for the evening dining room scenes in Barry Lyndon in order to capture candlelight on the slower film stocks of the day.
One of the unsung heroes in all this, it's a man named George Hill, who was Stanley Kubrick's go-to-guy when he wanted to create a custom lens for a project. George was also the only guy he trusted to clean his lenses collection. Enjoy!
Stanley Kubrick's Favorite Cameras & Lenses
I've always been fascinated with how some of the filmmaking masters got their start. How did they break into the business? What gear did they use on their first films? What events shaped them in the early days? As many of you know I have a love for Stanley Kubrick and his films. I always knew he got his start as a photographer for LOOK Magazine but I never could find out what cameras he shot on.
I did go into a pretty lengthy post on Kubrick Lenses but now, thanks to CinemaTyler's ongoing "Kubrick Files" series on Youtube, we can now see what cameras and photo lenses help shape this master. If you are interested in Stanley Kubrick's early days as a photographer I recommend two amazing books on the subject:
Stanley Kubrick: Drama and Shadows
Stanley Kubrick at Look Magazine: Authorship and Genre in Photojournalism and Film
The video discusses 20 cameras and lenses including the famous Zeiss Planar 50mm F0.7, the lens Kubrick used to shoot the candlelight scenes in Barry Lyndon. We also discover Kubrick's most beloved camera was the Arriflex 35 II, which he shot A Clockwork Orange, Barry Lyndon, Full Metal Jacket and Eyes Wide Shut.
Here are a list of the cameras and lenses discussed (via IndieWire)
1. Garflex Pacemaker Speed Graphic Camera
2. Kodak Monitor 620
3. Rolleiflex Automat 6×6 Model RF 111A
4. Rolleiflex K2
5. Rolleiflex Automat 6×6 Model K4
6. Rollei 35
7. Polaroid Pathfinder 110A
8. Leica IIIc
9. Pentax K
10. Hasselblad
11. Nikon F
12. Subminiature Minox
13. 35mm Widelux
14. Polaroid OneStep SX-70
15. Arriflex 35 IIC
16. Kinoptik Tegea 9.8mm
17. Novoflex 400mm f5.6 lens
18. Cooke Varotal 20-100mm T3
19. Cinepro 24-480mm in Arri Standard Mount
20. Zeiss Planar 50mm F0.7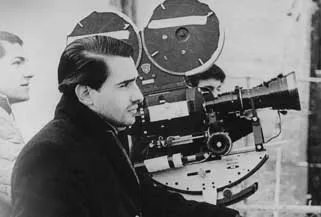 Want to watch more short films by legendary filmmakers?
Our collection has short films by Martin Scorsese, Quentin Tarantino, the Coen Brothers, Chris Nolan, Tim Burton, Steven Spielberg & more.