Who is Aaron Sorkin?
One of the most acclaimed, both hated and loved and a prominent screenwriter of modern times who has made a name for himself in the industry is Aaron Sorkin. Claim to fame The West Wing, Sorkin's signature style can be recognized and is matchless. His screenplay is unmistakable with witty and rapid dialogue or monolog, morality tales and sharp, intelligent male protagonists.
His dialogues often hint liberal political messages, and he is renowned for his smart stories of politics and the government. Aaron Sorkin has written both on the media industry and television especially.
Though the style gets diverging at times, Sorkin undoubtedly happens to be a brilliant writer who's credited with the creation of modern classics like A Few Good Men including recent successes like The Social Network. Sorkin has won several Emmys, an Academy Award, and a Golden Globe and carries on still to be a powerhouse both in television and Hollywood.

Born in Manhattan New York City to a Jewish family, Sorkin was raised in the suburb of Scarsdale. His father was a copyright lawyer who had battled in WWII and had put himself through college on the G.I Bill. His mother was a school teacher and both of his siblings, a brother, and sister went on to become lawyers.
Aaron Sorkin took quite an early interest in acting and before he had become a teenager, he loved shows like Who's Afraid of Virginia Woolf? And That Championship Season. Scarsdale High School was where Sorkin got involved in drama and the theater club.
When he was in 8th grade, he played the role of General Bullmoose in the musical, Li'l Abner. In the senior class production of Scarsdale High called Once Upon a Mattress, he played Sir Harry. Sorkin also acted as the vice president both in his junior and senior year at Scarsdale High School and in 1979, he graduated.
Sorkin got himself enrolled in the Syracuse University, and in his freshman year bad luck struck, and he flunked a class which was a core requirement. It was a very devastating setback as Sorkin had aspirations to take up acting and become an actor but the drama department did not permit the students to come up on the stage unless they had passed all the core freshman classes.
Resolute to do better, he returned again in his sophomore year and then graduated in 1983. According to Sorkin, his drama teacher Arthur Storch had a great influence on him back in college and his reputation as a director and being under the tutelage of Lee Strasberg was the primary reason why so many students aspiring to do something in theater and film industry chose Syracuse. And it was always Storch that pushed him to do better and encouraged him on his capacity to do better. Sorkin earned his bachelor degree from Syracuse University in musical theater in 1983.
Shortly after graduation, Sorkin moved to New York City. Most of his time in the 80s was spent struggling as an occasionally employed actor with lots of odd jobs like delivering singing telegrams, touring Alabama with children's theater company Travelling Playhouse and handing out fliers that marketed the hunting and fishing show, driving limousine and bartending at Broadway's Palace Theatre.

While housesitting for a friend one weekend, he came across an IBM Selectric typewriter and according to Sorkin, he felt such joy and phenomenal confidence that he had never felt before in his life.
Reflecting his experiences that he had with the touring theater company, Sorkin wrote Removing All Doubt which he sent to his theater teacher at Syracuse University, Arthur Storch. Impressed, Storch staged Removing All Doubt for the drama students at his alma mater.
Sorkin made quite a professional leap when he wrote his second play Hidden in This Picture which was debuted Off-off Broadway (which are smaller than standard Broadway and Off-Broadway productions,) at the West Bank Café Downstairs Theatre Bar which belonged to Steve Olsen, in 1988. The content of this first two plays ended up with him having a theatrical agent.
While having a conversation with his sister Deborah, Sorkin got inspiration for his next play. A courtroom drama called A Few Good Men. Deborah told him how she was going to defend a group of Marines who were about to kill a fellow Marine in a hazing which was a direct order by a senior. Sorkin was working as a bartender at the Palace Theatre, and he wrote all that information on cocktail napkins.
He returned home and typed all in Macintosh 512K which was purchased by his roommates.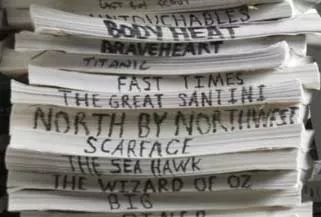 Want to read more screenplays by the best screenwriters working in Hollywod today?
The Bulletproof Screenwriting collection of screenplays are organized by screenwriter's & filmmaker's career for easy access.
The Hits
Sorkin sold the rights to David Brown before its premiere who produced it at the Music Box Theatre. Starring Tom Hulce, it was directed by Don Scardino. It ran for 497 performances, and by the time it hit the big screens, with Jack Nicholson and Tom Cruise, Sorkin had become a major Hollywood team player.
In 1993, Sorkin co-wrote Malice, a dramatic thriller. It starred Nicole Kidman and Alec Baldwin but still got mixed reviews. In 1995, Sorkin came up with The American President which took him few years to write. With the presence of Michael Douglas and Annette Benning striking up romance, it was critically acclaimed.
Sorkin made a comeback to the small screen in 1998 with Sports Night which was a comedy regarding the behind-the-scenes production of sports news program. It was filled with quick wit and snappy dialogues and garnered Sorkin a nomination in the Emmy Awards for outstanding writing. It lasted only two seasons though. This cult hit was loved by many fans and critics and won many awards too.
Unwavering, Sorkin's next project earned him the repute of one of the best American television writers in the history being pure Sorkin-ey. When he was writing The American President, the screenplay was huge which was cut down, and that ended up in creating West Wing which was an hour-long primetime drama revolving around the staff of a fictional Democratic President, Jed Bartlet which was incredibly played by Martin Sheen. The show ran for seven seasons and Sorkin left after the fourth with his production partner in 2003.
The West Wing was a huge hit and got Sorkin one of the record nine Emmy awards that were awarded to the show in 2000. The show is regarded as one of the best television dramas of all time. It featured a dazzling cast of Bradley Whitford, Rob Lowe, Allison Janney, Alan Alda with Stockard Channing.
The West Wing was where Sorkin earned his reputation for a particular writing style which was witty, quick and sarcastic at time. The walk and talk are the best portrayals of his style in which the characters would be briskly walking together in hallways and fired sharp line at each other with brilliant speed. It also earned him a repute for having quite a heavy-handed political opinion which was hated by conservatives.
The Bartlet Administration depicted the ideal progressive administration of Sorkin, and the characters would often comment in detail delivering lengthy monologs on current controversies and events. None could stop the show, and it still has a very respectable place in television history.
The follow-up series by Sorkin Studio 60 on the Sunset Strip, died out just after one season. He made a comeback to the theater with The Farnsworth which failed to impress. But Sorkin found success again with a political comedy-drama which was an adaptation of Charlie Wilson's War (2007). It starred Tom Hanks and Julia Roberts.
Sorkin then centered his focus on the origins and the following legal battles behind the upheaval of the social media giant, Facebook. Starring Jesse Eisenberg as the Facebook co-founder Mark Zuckerberg, it was adapted from a book by Ben Mezrich. The Social Network (2010) it happened to be a rewarding achievement for Sorkin and he won both an Academy Award and a Golden Globe for this screenplay.
Garnering Oscar buzz, Sorkin followed with another adaptation and co-writing the script for a baseball movie, Moneyball (2011). The Newsroom (2012) was Sorkin's another return to television. It combined elements from his last projects, and it emphasized on the excited behind-the-scenes production this time, at a cable news channel. The cast did an excellent job of witty banter and passionate speeches.
By the end of the show in December (2014) Sorkin had completed the screenplay for a biopic of the co-founder of Apple, Steve Jobs. It was released the next year and starred Michael Fassbender as the lead. This earned Sorkin his second Golden Globe for Best Screenplay. As of January 2016, Sorkin announced he would be making his directorial debut with an adaptation, Molly's Game a chronicle by an underground poker organizer, Molly Bloom.
Aaron Sorkin would be working with Bartlett Sher this time for an adaptation of To Kill a Mockingbird, for the stage. In March 2016, A Few Good Men would go into production on NBC and will be aired in 2017.
---
Aaron Sorkin Screenwriting Masterclass
Learn how to write incredible screenplays from Aaron Sorkin in the most comprehensive screenwriting course he's ever taught. In addition to both improving your storytelling skills and outlining what it takes to write incredible scripts, Aaron invites you into his writer's room for an eight-part screenwriting case study where he and his team will script, rewrite, and break down a new Season 5 premiere of The West Wing.
Aaron Sorkin first broke out with his Broadway play (and the film adaptation of) "A Few Good Men" starring Tom Cruise before creating "The West Wing" and the remarkable HBO show "Newsroom". He won an Oscar for writing "The Social Network" and was nominated again for "Moneyball"; more recently, he wrote "Steve Jobs."
Diving deep into screenwriting fundamentals, Aaron offers detailed lessons on narrative structure, character development, generating new ideas, and his signature style of dialogue. Aaron knows that great screenwriting requires intention and obstacle. He dedicates several lessons to explain how to create conflict, raise dramatic stakes, and keep audiences watching.
Designed to offer useful lessons to seasoned and emerging screenwriters, Aaron's class can be enjoyed by writers of all skill levels.
Over the course of 25 video lessons spanning five hours, as well as a 30-page workbook and interactive assignments. His workbook includes an entire lecture devoted exclusively to the walk-and-talk. Sorkin is going to share "his rules of storytelling, dialogue, [and] character development," critique select student submissions, and work with real-world examples from the decades he's spent writing movies, TV shows, and plays.
You can ENROLL in the course now to this game-changing screenwriting course. Click here to gain access
---