Oh boy, here we go.
The death of the Hollywood studio system in the 1960s gave way to possibly the most prolific filmmakers in movie history; the likes of Robert Altman, Hal Ashby, and Peter Bogdonovich were falling stars and a new group of directors was on the way up. You might have heard of them. They had a thing for beards apparently their names were Francis Ford Coppola, George Lucas, Paul Schrader, Brian DePalma, John Milius and Steven Spielberg.
They were affectionately referred to as The Movie Brats.
These brats didn't cut their teeth as part of the Studio System. They learned their craft at film school. They were raised for the most part on TV. Coppola went to UCLA, Lucas, and Milius at USC, Scorsese at NYU, and De Palma at Columbia.
Spielberg was a different kind of brat; he didn't wait until college to start making movies. He started at age 11. This group of talent took Hollywood (and the world) by storm and their box office success boggles the mind.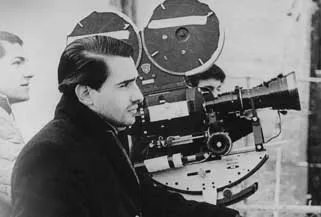 Want to watch more short films by legendary filmmakers?
Our collection has short films by Martin Scorsese, Quentin Tarantino, the Coen Brothers, Chris Nolan, Tim Burton, Steven Spielberg & more.
Collaboration
The brats didn't stay in their lane. They weren't divas who couldn't be bothered. They cross-pollinated (from a creative standpoint that is), and other creatives threw in as well. For example, composer John Williams was all over the place. (Raiders of the Lost Ark, ET, and Star Wars to name just a few scores). George Lucas shot the second unit for The Godfather. Scorsese asked for input from Spielberg for Taxi Driver.
Everyone was all in to help George Lucas finish Star Wars. In fact, Brian DePalma with the rewrite of the iconic opening crawl. They weren't averse to sharing profit participation points. Sometimes it was extremely profitable and sometimes… well, Big Wednesday comes to mind.
The Impact of The Movie Brat Movement
The work of the directors of the Movie Brat Movement can be felt today in the work of Quentin Tarantino, Paul Thomas Anderson, and Danny Boyle would have not been possible without the likes of Scorsese.
The Movies of the Movie Brat Movement
The Movie Brats created one blockbuster after another as well as critically acclaimed films, including:
The Godfather (Coppola)
The saga of the Corleone Family, based on a book by Mario Puzo starring Marlon Brando, Al Pacino, James Caan, and Talia Shire, and won seven Academy Awards, including Best Picture and Best Director.
American Graffiti (Lucas)
A coming-of-age comedy set in the 1950s, starring Ron Howard, Candi Clark, Richard Dreyfuss, Cindy Williams, and MacKenzie Phillips. It came up short at the Academy Awards (four nominations, no wins), but won Best Musical or Film at the Golden Globes.
Mean Streets (Scorsese)
The first of many Scorsese crime dramas, starring Robert De Niro and Harvey Keitel. While it was a critical darling, it ended up making only $41k at the box office.
The Conversation (Coppola)
A thriller about a surveillance expert who finds out his recordings reveals a potential murder, starring Gene Hackman. Although it won the Grand Prix at the 1974 Cannes Film Festival, it lost to The Godfather Part II at the Academy Awards.
Carrie (DePalma)
At the center of the terror, is Carrie (Spacek), a high school loner with no confidence, no friends… and no idea about the extent of her secret powers of telekinesis. But when her psychotic mother and sadistic classmates finally go too far, the once-shy teen becomes an unrestrained, vengeance-seeking powerhouse who, with the help of her "special gift," causes all hell to break loose in a famed cinematic frenzy of blood, fire, and brimstone!
Jaws (Spielberg)
Based on the runaway best-seller by Peter Benchley, the epic man against shark thriller starring Richard Dreyfuss, Roy Scheider, and Robert Shaw. The film, which spawned three unnecessary sequels, was budgeted at $9 million and was a box office smash, taking in $470 million at the box office.
Taxi Driver (Scorsese)
A psychological thriller starring Jodie Foster, Robert De Niro, Harvey Keitel, was a critical success and made a respectable $28 million at the box office.
Conan The Barbarian (Milius)
Orphaned boy Conan (Arnold Schwarzenegger) is enslaved after his village is destroyed by the forces of vicious necromancer Thulsa Doom (James Earl Jones), and is compelled to push "The Wheel of Pain" for many years. Once he reaches adulthood, Conan sets off across the prehistoric landscape of the Hyborian Age in search of the man who killed his family and stole his father's sword. With beautiful warrior Valeria (Sandahl Bergman) and archer Subotai (Gerry Lopez), he faces a supernatural evil. Screenplay by John Milius and Oliver Stone.
Star Wars (Lucas)
The iconic space opera starring Mark Hamill, Carrie Fisher, and Harrison Ford, with an assist from Anthony Daniels, Kenny Baker, David Prowse, and James Earl Jones, made a staggering $775 million. The film spun off 8 sequels and prequels, numerous TV series, and enough merchandise to fill a galaxy far, far away.
Close Encounters of the Third Kind (Spielberg)
Starring Melinda Dillon, Richard Dreyfuss, and a young Cary Elwes, about extraterrestrials coming to earth while the world holds its collective breath and learning to communicate, was the second Science Fiction film blockbuster of 1977 and pulled in $288 million at the box office.