The Cinema du Look film movement, which originated in France in the 1980's and lasted for approximately the next decade or so, was more of a feast for the eyes than food for the soul. it was inspired by TV commercials, music videos and fashion photography, as well as Francis Ford Coppola's One From the Heart and Rumble Fish.
Cinema du Look's chief architects were a trio of directors including Jean-Jacques Beineix, Leos Carax, and Luc Besson.
These directors were all influenced by the French New Wave movement of the 60's, but this new movement was much more visual, more theatrical, and very much geared towards youth. The directors all had a love of film and an eye for design.
They all worked in different genres including comedy, thriller, romance, action, science fiction, and horror. Their films often featured elaborate sets, often with a futuristic or steampunk feel, costumes that were often designed by famous fashion designers such as Jean Paul Gaultier, and music that reflected the era they were made in.
The Directors of the Cinema du Look Movement
Leos Carax began his film career with a series of short films, and he's one of France's most respected critics. He directed and acted in his first feature, "Boy Meets Girl," which was released in 1984, which established his reputation for a mature visual style.
He followed it up with his next film, which was called Mauvais Sang (literally Bad Blood but mostly known as The Night Is Young). It was his first time working with Denis Lavant and Jean-Yves Escoffier. His third feature film was 1989's Cristal, and it is often seen as his magnum opus. Her performance in the movie is clearly a homage to French New Wave cinema and to her influences, especially Jean-Luc Godard. The film was entered into the 37th Berlin International Film Festival.
Carax returned to directing five years later with Le Pont-Neuf (The Bridge), which cost a whopping $25 million to film in Paris.
The original film crew had initially thought about creating a model of the bridge in the village of Lansargues, in Southern France. But they discovered that the problems of filming on a public bridge would not be solved just by building a model of it. They decided to film on the actual bridge, but their initial reaction to the problems involved in filming on a public bridge had been to construct a model of the bridge.
Their first day of shooting was not without severe problems. Lavant injured his thumb, which pushed back the movie by a month. Subsequent financial problems further delayed shooting, and it took more than a year to finish editing the movie. La Vie en Rose was one of Jean-Paul Gaultier's first films as a director. The film premiered in 2012 at the Cannes Film Festival.
He returned to filmmaking five years later with Les Enfants du Pont-Neuf, which was beset with shooting limitations, cost overruns, and actor Denis Lavant injuring himself, as legend would have it, from tying his shoelace, but was finally released in 1991.
Jean-Jacques Beineix, born in Paris, and according to his IMDB biography, was "a rabid movie when he was young" and studied medicine before embarking on his film career. He also worked as an Assistant Director under several notables, including Jerry Lewis (remember the French regarded him as a comedic genius).
His first feature Diva was universally panned by critics, but it was saved by positive word-of-mouth, and finally earned some respect at international film festivals.
His second film The Moon in the Gutter,was a critical and box office disaster and Beineix's career was swirling the drain. His hemorrhaging career received a reprieve with his work on the film Betty Blue, which received international acclaim. Unfortunately, despite being nominated for nine César nominations, the film only won one award… for Best Poster Design.
His last film in the Cinema du Look era called Roselyne and the Lions, which was set in the circus, came and went with nary a whisper.
And then there was Luc Besson. For the purpose of this discussion, we'll just concentrate on his work and influence on the Cinema du Look era.
Luc began his life traveling around the world with his parents, who were scuba diving instructors, but a diving accent at the age of 17 sidelined his scuba diving aspirations and he moved into pursuing a film career.
His experience as a scuba diver was evident in his first short film, an apocalyptic drama about a waterless future where it occasionally rained fish, called L'Avant Dernier, starring long time collaborator Jean Reno. The dialogue-free, Sci-fi short was reviewed by some as a bad trailer for a good movie.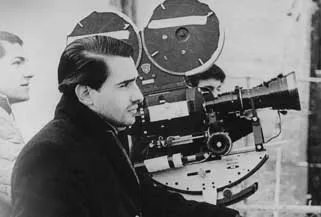 Want to watch more short films by legendary filmmakers?
Our collection has short films by Martin Scorsese, Quentin Tarantino, the Coen Brothers, Chris Nolan, Tim Burton, Steven Spielberg & more.
Luc Besson's feature film debut, Le Dernier Combat, would increase his dialogue by two words, was filmed in black and white and opens with the protagonist having sex with a sex doll, received positive reviews and Besson was referred to as the next John Carpenter.
His next film called Subway, starring Isabelle Adjani and Christopher Lambert, A thriller about a man on the run in the Paris metro, was well received, and was considered part of the Cinema du look movement because of its vivid visual style. It was nominated for best foreign language film at the 40th British Academy film awards.
The Big Blue, which was his next directing job, which was very loosely based on the story between two champion free divers in the 20th century. Received mostly positive reviews, and was screened out of competition at the 1988 Cannes film festival.
But it was the next film that changed Luc Besson's career. In 1995 he wrote, directed and produced La Femme Nikita, a psychological thriller about a woman who is forced into becoming a spy and assassin by a government agency. The film was a critical and box office success and would be the beginning of a long relationship with Hollywood.
The movie would be remade twice, once in Hong Kong and then in Hollywood, and was then spun off into a wildly popular TV series of the same name.
This was followed by the critically acclaimed The Fifth Element, a science fiction adventure film based on the comic book by Jean-Claude Forest and Chris Foss. It was a hit with audiences and critics, and was nominated for an Oscar for best visual effects. It would become one of the first films to be released with a Blu-ray release, and Besson's name became synonymous with high quality cinema.
Now how could we speak of Luc Besson without mentioning his masterpiece Leon: The Professional.
Mathilda (Natalie Portman) is only 12 years old, but is already familiar with the dark side of life: her abusive father stores drugs for corrupt police officers, and her mother neglects her. Léon (Jean Reno), who lives down the hall, tends to his houseplants and works as a hired hitman for mobster Tony (Danny Aiello). When her family is murdered by crooked DEA agent Stansfield (Gary Oldman), Mathilda joins forces with a reluctant Léon to learn his deadly trade and avenge her family's deaths.
Outside of the Cinema du Look era, Besson solidified his status as an action movie film director with movies such as , Messenger: The Story of Joan of Arc, Lucy, and Valerian and the City of a Thousand Planets. He also served as writer and/or producer on a number of action films.
One Last Look at Cinema du Look
All things considered, the Cinema du Look movement rested on the shoulders of three directors, who after a while moved in different directions, including Besson coming to America and becoming heavy influence in action feature film.